All our litters come from selective breeding scheme of illness clear lines .
Breeding for quality, not quantity, with great dedication and enormous love.
VISION
Breeding is a vision.
The breeder must be an artist using all of his abilities, knowledge, experience and patience to express his vision in a concrete form.
GENETIC & PLANING
A beautiful dog never results from impulsive, short-term actions.
It requires a carefully conceived plan.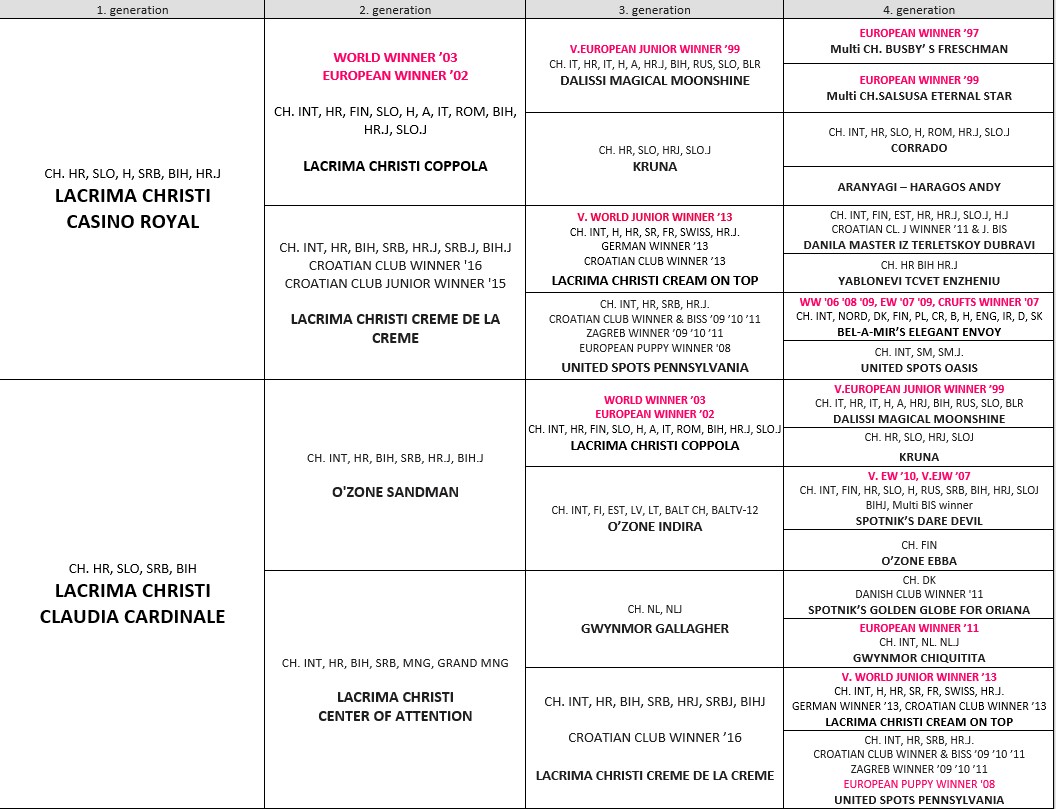 For us is a must to find for our puppies great families, by careful screening and evaluation of each person or family interested in getting a puppy.
Wheather a puppy is sold as a show prospect, a hunting dog, a future agility star, or a beloved pet, the relationship between us as breeders and new owners is a lifetime relationship.
We follow our puppies from the very first moment, looking at their development, construction, temperament… Due to that, we make selection and ranking followed by our experience and knowledge.
Small differences we see, may not be visible to you, but to every new owner we must know which one to suggest and recommend,  following their wishes expressed at the beginning.
It is not important who applies first, but which quality new owner wants. A new owner must know weather he wants a puppy as only a pet, or potentially for showing and breeding in the future.
* As we don't have puppies available through the whole year, it is necessary to make reservation. Every future owner will get reservation contract after we decide you are a potentially good future owner.
Having a reservation contract, you know that a puppy waits for you and that we will give our best to help you choose.
Puppy's health and overall quality is guaranteed in the sales/guarantee contract.
Photo:
Pia Eidenboom & LACRIMA CHRISTI CATCH A FALLING STAR
before their flight to Oslo, Norway, 2018.
Our puppies are raised in the family
We dedicated our whole life to our dogs, they are our passion, our life style.
We breed for improvement of this wonderfull breed.
We breed for quality, not for quantity.
First and foremost – our dalmatians are family companions.
From the very first moment of their birth, our puppies are under 24/7 care and supervision of our family.
By the time they leave to their new families, our puppies are fully socialized for their age, used to children, other dogs and people.
Health is our top priority !
We breed under selective breeding scheme of illness clear lines.
Our puppies are under veterinary control from birth, through vaccination sheme, hearing test and health checks through the whole period while with us.
Every puppy leaves with microchip, EU passport with vaccination/deworming records, BAER hearing test, health certificate.
To stay in contact with our puppy owners is a must, and we, as both parties oblige ourselves about this relationship also in a written form.
This is the only way for us to follow our breeding program and on the top of that, to give our puppy owners full lifetime support.
The proof of this trustfull relationship is visible in our puppy owners comming again for their new family member after their belowed friend dies.
Photo:
Barbara Koren (Slovenia) & LACRIMA CHRISTI COSMIC LOVE (born 2016), Barbara was an owner of Lacrima Christi Cita (born 2002.)
Time to leave to new homes
Departing time depends of the destination country and its import rules.
Earliest age the puppy can leave our home is 8 weeks of age.
Till that age, puppies are 5 times dewormed, 2 x vaccinated against epidemical diseases, microchipped and hearing tested.
Some countries require rabies vaccination and therefore those puppies stay untill 15 weeks of age.
Having an expert shipping agency, your puppy can be sent by plane and taken care of for the whole journey to pass safely and comfortable.
Contact Us
Feel free to contact us!
We don't have pure question forms to fill in,
we rather want to get your email with few
words describing yourself and your wishes…
We will gladly answer all your questions…
+385 91 1822 784 (also Viber & WhatsApp)